01/09/2014
FBF now on Spotify and iTunes!
Exciting News! My 2003 album
Smile If You Absolutely Have To
is now available on Spotify and iTunes.
06/20/2013
Three Shows Just Added!
Hey Everyone, it's summer so I figured I better get out there and start playing again. Just added three shows in August at the Pillar Lounges in Reading (3rd and 24th) and Lancaster (23th). I'm also at Rachel's Cafe on August 16th and in Austin, Texas on August 10th. Come on out!
04/27/2013
It's Songwriting Season!
Hey FBF Fans! It's songwriting season, aka the annual Nur Ein competition! Will I repeat as champion this year, making me the only contestant to win three times? Who knows? But I did win Round Zero (the qualifying round) with a new, hastily recorded song called "When the Time Comes." Check it out in the "Music" section under Nur Ein 8 (2013)!
01/27/2013
Frankie Big Face and ADD Collaborate on Beck's Song Reader
Check out the
Music
section for a new collaboration between Frankie Big Face and
ADD
. The two artists have come together to record the first ten songs of Beck's new sheet music collection
Song Reader
. One track per day will be posted beginning January 27.
Here's a stream of the tracks released to date:
10/07/2012
Frankie Big Face Song Index
Maybe you're new to Frankie Big Face and need a primer. Or maybe you heard a song at a show but have no idea what year it's from or what album it's from and can't find it on this website. Don't worry! With the new Frankie Big Face Song Index, you can download the "Top 20," expand your listening to the 45-song "Greatest Hits" list or browse the all-inclusive 107-song "Song Index." Just click
here
to get started!
09/29/2012
Web Site Changes
Moved the website to the root level (finally) so the URL won't say "newwebsite_html" forever. Please let me know if you find any broken links!
Next up, a song index and fixing the "stream all" links.
09/16/2012
New Album in Progress!
Spent the weekend prepping "canvases" for #Albumfight. Haven't recorded a note yet but song structures are in place.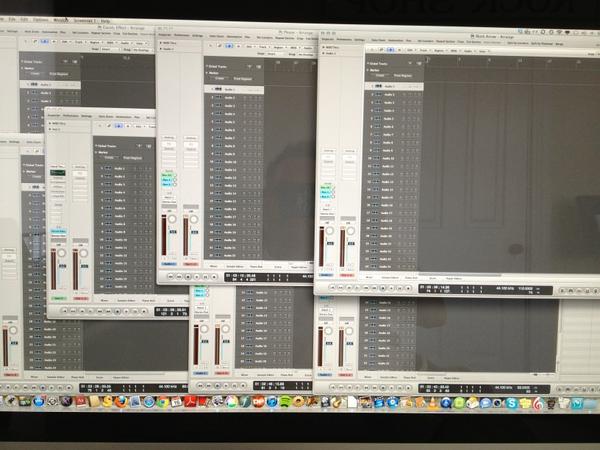 08/09/2012
New Website!
After three years of not updating my website (pathetic, I know), I've got a new website. Thanks to my good buddy Spud (who designed Spud's Amazing Web Machine--see the Links section for details), all your favorite Frankie Big Face songs are now available in a stylish new package worthy of a two-time Nur Ein champion. If you want to show your support, head on over to the Frankie Big Face store and pick up the first ever Frankie Big Face t-shirt!
Now back to writing some songs!